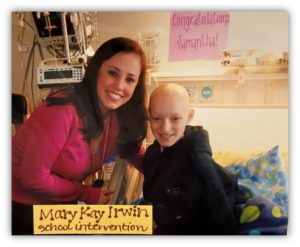 As school liaisons and hospital teachers, we never know the long-lasting impact we may have had on the patients with whom we've worked. As the patients age, we often lose touch, never learning about their long-term outcomes or what their futures have held. This was not the case for Mary Kay Irwin and Samantha Timmons whose paths continued to cross since the day they met at Cincinnati Children's Hospital Medical Center (CCHMC) in May 2005.
Samantha was concluding her 7th grade year at a private school when she was diagnosed with Ewing's sarcoma, a type of cancer that occurs in bones or soft tissue. She was a smart, active, and athletic student. Samantha and her family knew that her life would drastically change during treatment, but they wanted her to keep up with her peers.  She and her classmates were very close, so there was much they looked forward to together as their 8th grade year approached. It was devastating for her to miss so many of the festivities that year due to the effects of her treatment plan, which included chemotherapy and extensive reconstructive surgery to remove a tumor from her leg.  In all, she missed approximately 120 days of school in her 8th grade year.
When meeting Samantha, Mary Kay was a school intervention coordinator at CCHMC and had received a referral from the oncology team for school intervention services to serve as a liaison between Samantha's school, medical team, and family. Mary Kay remembered how urgent the referral was, as Samantha's mother was anxious to develop a plan for school. "I shared that, in these circumstances, it is common for students to undertake a reduced workload and that we had strategies for identifying priority assignments. Samantha and her family did not want a reduced workload and decided to attempt to have Samantha complete all of the work with the help of the home instructor. Once I got to know Samantha better, I realized that she had the capability of maintaining her academic workload in the midst of rigorous treatment." Though Samantha was able to keep up with her work, it was still rather devastating for a social 13-year-old to miss out on both the special events and the day-to-day normalcy that school provides students.
"Truthfully, I don't remember the exact moment I met Mary Kay – it just feels like she was always there from the beginning of my cancer diagnosis. So much of that time in my life was a blur, including the introductions of some of the most important members of my care team. I do know that Mary Kay was there right from the beginning and communicated information to my school team pretty immediately and helped my parents determine what we would tell my peers at school. " Samantha will be the first to admit that her school was wildly helpful, and she had teachers who genuinely cared and wanted her to succeed, in addition to her parents, who would have seemingly moved mountains for her. But even with those privileges and resources at her disposal, the idea of coordinating her schooling was daunting at a time when her family's life had been overturned. They were barely treading water with all of the new information, medications, and treatment plans being discussed. "I am truly not sure what we would have done without Mary Kay those first few weeks of my diagnosis.  She collaborated with my school team to make a plan that she knew was reasonable for me, put it into motion, and made it so that my family had one less (big!) thing to worry about during the craziest time of our lives."
Mary Kay continued to work with Samantha and her family throughout her high school journey. They also spent time talking about her future, exploring college scholarships, and touched base while she was in college pursuing a degree in education. After college graduation, Samantha had multiple job offers, and Mary Kay will never forget the call in which Samantha described her options. Several years later, they spent time talking about a graduate degree and her interest in eventually transitioning out of the classroom into a school liaison job at CCHMC. Samantha knew during that year of treatment that being a school liaison was something she wanted to pursue. "I've always been indebted to Cincinnati Children's: not only did they literally save my life, but they provided me with the resources (physical & psychosocial) that have allowed me to excel post-treatment. This job combines my love of teaching and interest in healthcare in such a unique way, and I am forever grateful for the opportunity to pay it forward to other families. " As Samantha completes her second year as a school liaison at CCHMC, she reflects, "I do think I understand and can empathize with the nuances of balancing a medical diagnosis and 'regular' life faster than most providers. I think it's easy for those of us who work in healthcare to forget that this child's diagnosis is just one piece of a very large puzzle for the family. Parents still have to grocery shop, worry about finances, drive other kids to soccer practice, and perform at their own jobs. Our patients are still expected to (and often want to!) participate in school, socialize with their friends, perform in the school musical, or play baseball. Although some of the diagnoses we help families navigate can feel all-consuming, I remember the balancing act that my family had to do when I was sick, and I try to bring that perspective to the care teams with whom I work. "
Within their interactions, both Mary Kay and Samantha made positive impacts on each other's lives. Mary Kay sees Samantha as an inspiration to all who know her who also has an amazing outlook on life and is a reminder that good things can emerge amidst hardship. Samantha states, "Mary Kay has been an incredible mentor to me, and I am forever grateful for the connection to her that CCHMC gave me 15+ years ago!"
Since that time, Mary Kay transitioned to Nationwide Children's Hospital in Columbus, Ohio. She serves as the Senior Director of School Health and Adjunct Assistant Professor in the Department of Pediatrics at The Ohio State University. In her role at NCH, she is responsible for leading and assuring the development, implementation, and evaluation of school health services. Mary Kay also serves as a consultant for the state of Ohio to assist others in establishing sustainable models of school-based health care in their respective communities.
Samantha is finishing her second year as a school liaison at CCHMC working with patients in the clinic setting who have endured a mild to moderate concussion.